DOMUSVI, SEQUABAT AND THE ARCHITECT FRANÇOIS DE LA SERRE LAID THE FIRST STONE FOR A CARE HOME FOR THE ELDERLY IN AGEN (LOT-ET-GARONNE) ON 6TH DECEMBER 2019
---
6 December 2019
SEQUABAT, which specialises in the design and construction of turnkey projects involving business and residential property, their client DOMUSVI and the architect behind the project, François de la Serre laid the first stone for a care home for the elderly in Agen (Lot-et-Garonne) on 6th December 2019. Work began a few weeks ago and the project is due to be handed over in the summer of 2021.
A friendly and official event
---
Organised by SEQUABAT and DOMUSVI, this symbolic event in the life of a construction project brought together all the stakeholders for a friendly gathering and the laying of the stone and parchment for this future building. The day continued with a visit to the building site, with the first work being done last October.
A care home with 92 rooms
---
This project represents the latest generation of establishments developed by DOMUSVI, and which have been designed to offer an attractive place to live to the future occupants.
With a surface area of 5124 m², the home is spread over three floors. The ground floor is organised around a central patio in the reception area, a common room for the residents and a landscaped garden with paths.
The accommodation on the upper floors will offer 92 rooms, including 14 for dependent residents and an activities and care unit, all in a setting designed around the well-being of the residents.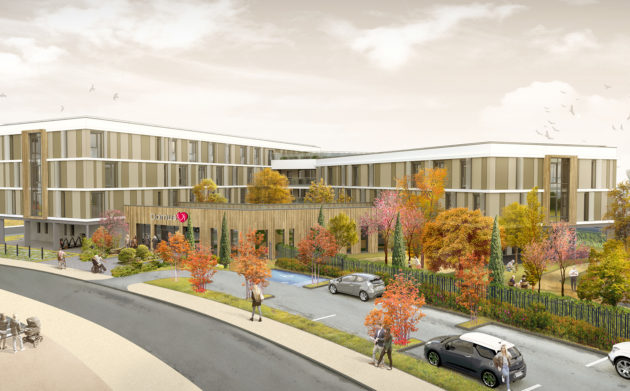 An extension planned
---
To be delivered in the summer of 2021, the home will open its doors immediately to its first residents. Because of how popular it is, DOMUSVI, SEQUABAT and the team of architects around François De La Serre have already planned a possible extension to the home with 14 additional rooms.
DOMUSVI renews its trust in SEQUABAT
---
The construction of the care home in Agen follows on from another project for the  DOMUSVI Group, involving a home with 65 beds in Mireval (Hérault) which is due to be completed in the spring of 2020. This second joint project confirms the trust shown in the teams from SEQUABAT who worked with their client from the start of the project paying attention to the design phase, taking into account the cost and technical aspects.
This latest project strengthens SEQUABAT's position with participants in the health sector, like DOMUSVI, with almost 240 bedrooms built or being built.
Find out more
---
Take a look at our references including housing estates, serviced accommodation, homes for the elderly, care homes, hotels and business and commercial premises. You can also contact us if you require any additional information or wish to talk about a design or a turnkey construction project.
News and advice
News and our skills
---
See our latest news and get advice from our experts to build your project in the best possible conditions.