SEQUABAT has started work on the second phase of a warehouse in Castelnau-d'Estretefonds (Haute Garonne)
---
17 April 2019
SEQUABAT, the subsidiary of the IDEC GROUP that specialises in the design and construction of turnkey projects involving business and residential property, has just started work on the second phase of a logistics platform for the 3R Group. This 10,450 m² phase marks the continuation of a project launched last year and for which the first part will be handed over before the summer.
Second logistics project for SEQUABAT
---
SEQUABAT is working alongside the 3R GROUP, a family run property company, which specialises in the development of business premises, on the construction of a warehouse in Castelnau-d'Estretefonds (Haute-Garonne). This operation designed to be carried out in two phases is based firstly around two units and an office block, the construction of which is about to finish, and then a second phase, work on which is due to start this month.
Launch of the second phase
---
Continuing on from the work done in phase 1, the construction of the second phase of this project will begin on 23rd April. Two additional units and an office block covering 10,450 m² will become home to one or two new occupants. The foundation work for the new project and the concrete pillars will be put in at the end of the month, so that work can begin on the frame made of concrete and panelling during the summer.
The first units to be delivered shortly
---
The construction of phase one is nearing completion. The roofing and main structure is complete and work is now continuing with the finishings. The teams from SEQUABAT are in charge of the internal fittings with the offices being prepared and electrical installation and plumbing work being carried out as well as flooring and modular partitions going in. the handover of these two units and the office block is scheduled for mid-June. SEQUABAT is aiming to obtain BREEAM Very Good certification for this project.
Trust SEQUABAT with the construction of your business property project
---
Like the 3R GROUP, you too can trust SEQUABAT to carry out your business property project (offices, commercial, business, logistics). With a turnkey solution offering a guaranteed price, deadlines and quality, SEQUABAT is your sole contact allowing you to develop your new facilities without any worries. Its experts work with you during the design phase and come up with a tailor-made, certified project (BREEAM, HQE, …). Its building teams carry out the work respecting the highest standards of quality and safety.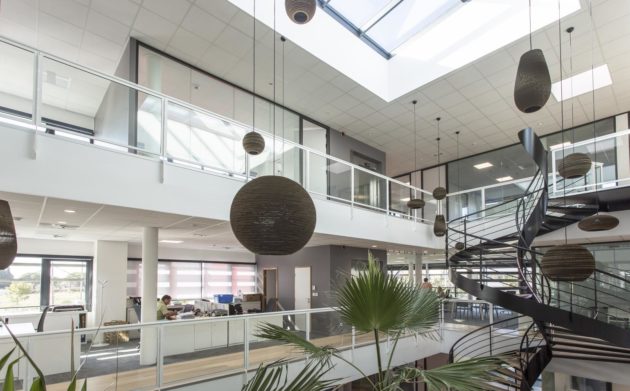 Find out more
---
Take a look at our references including housing estates, serviced accommodation, homes for the elderly, care homes, hotels and business and commercial premises. You can also contact us if you require any additional information or wish to talk about a design or a turnkey construction project.
News and advice
News and our skills
---
See our latest news and get advice from our experts to build your project in the best possible conditions.