SEQUABAT HANDING OVER THE FIRST STAGE OF THE LOGISTICS PLATFORM IN CASTELNAU-D'ESTRÉTEFONDS (HAUTE-GARONNE)
---
24 September 2019
SEQUABAT, the subsidiary of the IDEC GROUP specialising in business and residential property, has just handed over the keys to the first phase of a logistics warehouse. This project carried out for the 3R GROUP in Castelnau-d'Estrétefonds (Haute-Garonne) stretches out over almost 10,000 m².
The first logistics project for SEQUABAT
---
SEQUABAT has just completed the construction of the first phase of a logistics platform for the 3R GROUP. This family business specialising in the development of business premises entrusted the SEQUABAT teams with the erection of this huge logistics project in Castelnau-d'Estrétefonds at the heart of the Eurocentre multimodal hub. The construction of this project illustrates the ability of SEQUABAT to work with its clients on completing all sorts of business property projects.
An operation in two phases
---
This project with its modular design has been organised in two phases, the first the handover of which has just taken place, is based around two dry units and an office block with a surface of 9300 m². It is to be used by the POMONA GROUP, which specialises in the distribution of food products for the catering sector and has already partnered the IDEC GROUP for other projects. The second phase, on which work started a few weeks ago, is based around two extra units and an office block covering a surface of 10,450 m².
Aiming for BREEAM Very Good certification
---
The construction of the second phase will take 7 months of work and will then be used by one or two companies. The logistics platform will the offer almost 20,000 m² of storage space. Thanks to the careful attention to its design, and a responsible management approach, the teams from SEQUABAT are aiming for Very Good level BREEAM certification, which is awarded to sustainable buildings which save energy.
Trust SEQUABAT with the construction of your business property project
---
Like the 3R GROUP, you can trust SEQUABAT to carry out your business property project (offices, commercial, business, logistics). With a turnkey solution offering a guaranteed price, deadlines and quality, SEQUABAT is your sole contact allowing you to develop your new facilities without any worries. Its experts work with you during the design phase and come up with a tailor-made, certified project (BREEAM, HQE, …). Its building teams carry out the work respecting the highest standards of quality and safety.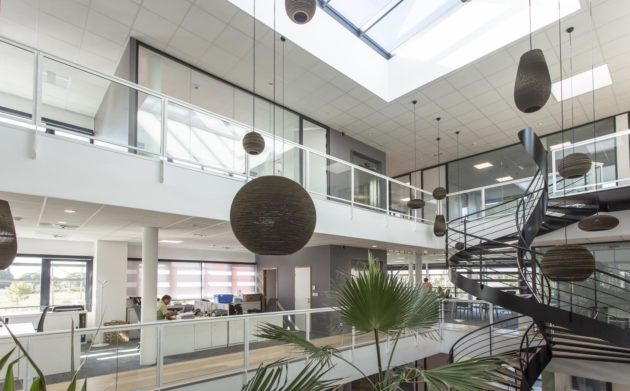 Find out more
---
Take a look at our references including housing estates, serviced accommodation, homes for the elderly, care homes, hotels and business and commercial premises. You can also contact us if you require any additional information or wish to talk about a design or a turnkey construction project.
News and advice
News and our skills
---
See our latest news and get advice from our experts to build your project in the best possible conditions.